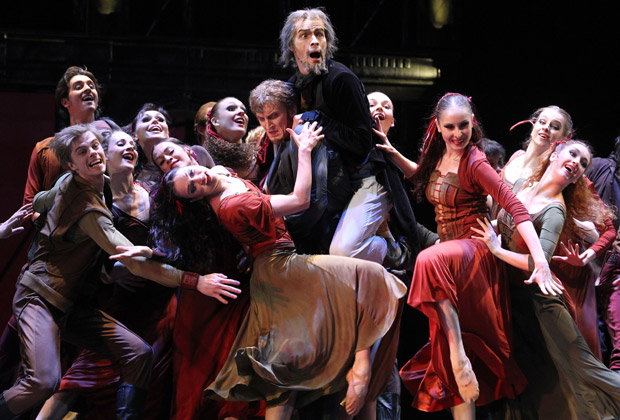 Artistic directors from Germany, China, Czech Republic, South Korea, Sweden, Norway, Hungary and Russia will take part in round table discussion "Classical Heritage – Museum or Theatre?".
The event will be the starting point of the section "Ballet and Dance" of IV Saint Petersburg international cultural forum. The head of the section is Art director of St.Petersburg State Academic Ballet Theater Boris Eifman.
During the discussion at Mariinsky Theatre the most respected world figures of ballet art will talk over the problem of preservation, restoration and adaptation of classic choreographic masterpieces. Participants of the round table will consider main approaches to the re-comprehension of classic ballet heritage, discuss reasonable criteria of innovation in the interpretation of classics. Also they will work out professional recommendations for ballet stage directors.
This year on the 21st of May Russian President signed the decree on the celebration in 2018 the 200th anniversary of the birth of great ballet master Marius Petipa – "the father of Russian ballet". That is the reason why Academy of Russian ballet will hold round table discussion "House of Petipa" as a part of the cultural Forum. The moderator of this event is Nikolay Tsiskaridze, the rector of Academy of the Russian ballet named after A.Ya.Vaganova, the people's artist of Russia.
Within section "Ballet and Dance" there will be cultural events of educational and entertaining nature. During the guided tour "Ballet in St.Petersburg" art amateurs will visit the main city theatres and ballet schools as well as places, related to the lifestories of such outstanding persons as Charles-Louis Didelot, Marius Petipa, Anna Pavlova, Waclaw Nizynsky, etc.
On the stage of The Hermitage Theatre the ballet Hommage à Louis XIV Baroque Dances Reconstruction Performance will be shown to guests. This is the renovated version of the Baroque dance, prepared by guru of this school Klaus Abromeyt (Germany). In Aleksandrinsky Theatre dancers of Boris Eifman's St.Petersburg State Academic Ballet Theater will present a show "Beyond sin". After it there will be a meeting with the soloists.
photo: lenta.ru